Vin Nichols Gets Westminster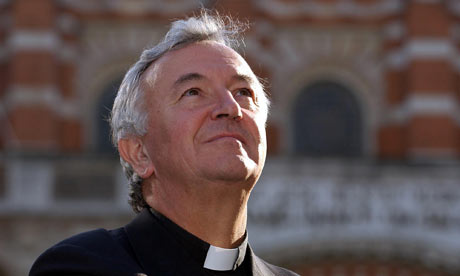 His Holiness Pope Benedict XVI has today appointed the Most Reverend Vincent Nichols, who has been Archbishop of Birmingham since March 2000, as the next Archbishop of Westminster.

Pope Benedict XVI has accepted the resignation of Cardinal Cormac Murphy-O'Connor as Archbishop of Westminster. The Cardinal will now become the Apostolic Administrator of the Diocese of Westminster until Archbishop Nichols is installed at Westminster Cathedral on Thursday, 21 May 2009. Until then, Archbishop Nichols will remain in Birmingham.

Archbishop Nichols will succeed Cardinal Cormac Murphy-O'Connor, who has been Archbishop of Westminster since March 2000, becoming the 11th Archbishop of Westminster since the Restoration of the Hierarchy in 1850, when the diocesan structure was re-established.
Vin gets the prize despite a
campaign
being run against him from the very highest quarters indeed. You see, Nichols is not as popular as he could be in the Bishops' Conference. One Eccleston Square insider described him as "undoubtedly very bright but not very collegial", saying that he had "an unmistakeably contemptuous air to his fellow bishops" and is "very much a loner, not a team-player".
Still, even his detractors recognise that the outspoken Nichols is an effective fighter against militant secularism; he won plaudits for facing down Alan Johnson's lunatic plans to introduce quotas for non-Catholic pupils at Catholic schools as well as for sharply criticising a sensationalist beeb documentary called Sex crimes and the Vatican as being "false and misleading".
If Nichols does have a problem, however, it comes in the form of his sleazy press secretary, Peter Jennings. The Jekyll and Hyde-like Jennings really is unpopular not least because of his propensity to pulling such bizarre stunts as inviting journalists to his club (the East India) then making a public scene of ordering them to leave at the top of his voice and manhandling them out of the door. Nichols may be thinking of bringing Jennings down to Westminster with him. That would be a
very
bad idea.