The 1977 Petition against age of consent laws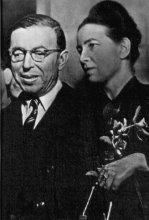 From
Wikipedia
In 1977, a petition was addressed to the parliament calling for the abrogation of several articles of the age-of-consent law and the decriminalization of all consented relations between adults and minors below the age of fifteen (the age of consent in France).
The document was signed by the philosophers Michel Foucault, Jacques Derrida, Louis Althusser, Jean-Paul Sartre, Simone de Beauvoir and André Glucksmann, by the philosopher and semiotician Roland Barthes, by the novelist/gay activist Guy Hocquenghem, the actor/play-writer/jurist Jean Danet, the writer and filmmaker Alain Robbe-Grillet (elected in 2004 a member of the Académie Française), the writer Philippe Sollers, the pediatrician and child psychoanalyst Françoise Dolto and also by people belonging to a wide range of political positions.
As I recall, when some enterprising journalist brought this to the public's attention in the 1990s it caused a storm of outrage. Satre, the conscience of the nation, putting his name to such a thing! He must have been in the advanced stages of senility, people reasoned. Or maybe he didn't read the document.
Oh how short their memories are.