No Justice, no peace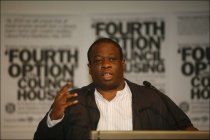 A few days ago, Unite against Fascism joint secretary, Weyman Bennett was charged with conspiracy to commit violent disorder, according to
reports
. Rather than soberly noting these facts and reserving judgement until a jury of Bennett's peers sees fit to return its verdict on the matter, Harry's Place, still relentlessly pursuing its vendetta against the anti-Zionist left, used the occasion to indulge in an
unlovely tirade
against Bennett and his party.
Bennett, remember, remains innocent until he is proven otherwise before a court.
Earlier this week it also emerged that the Metropolitan Police has
paid damages
to protesters it unlawfully arrested during the G8 protests.
It's as well to bear these things in mind before rushing to judgement when a political activist finds himself at loggerheads with the filth.